Computer image by "PATS" - dec. 97
Last year The Little Church -part 2 -


---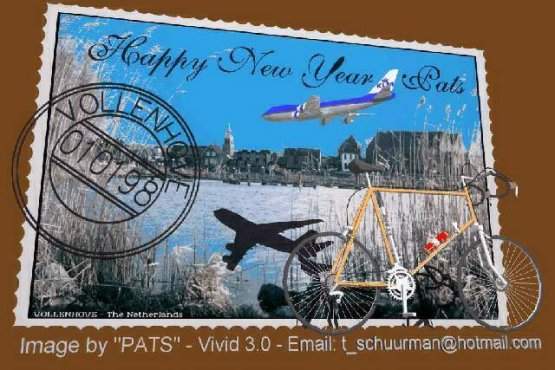 "My UNION flying tools" :
A different image! Yes, a first-day delivery. (Not on the bike!)
It's a mixture of my hobbies and Vollenhove.
Parked my bike, brand "Union", and took the "blue bird" to see the world

View from the polder:
A couple of years ago I took some pictures to make drawings for a tourist-brochure of Vollenhove
One of those colorslides, a view just through the reed, gives you an impression seen from the "New Land".
As a town on the former "Zuiderzee" we lost the connection with the sea in 1932, nowadays the reclaimed land (1942)
is providing us with all kinds of work.
Just call it "different fish".
The church, well-known from the former two cards, is seen in the middle of the image.
At the right the St.-Nicolaas kerk, a late gothic church from the 15th century.

I used AutoCAD-R12, DXFV20, ME5, VIVID3 and the artist freedom on a Pentium 90

(All programs or trademarks are copyright by their owners.)
1998 "Debbie's Top 5" next image.