*** WINTER'98 - 6 weeks ***
The "STORY" is still incomplete. Meanwhile, ... enjoy it.
Some extra images plus more text will do it.

VOLLENHOVE - ZWOLLE - 16 November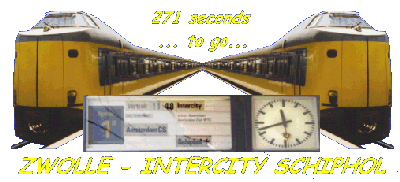 The busstop is on a 10 minutes walk, busses are running every half hour
after 45 min I'm on the railway station in Zwolle
12 min. later I'm heading by train for a 1.23hrs ride to Schiphol Airport.
There is a large terminal under the airport
NO AMTRAK or GREYHOUND schedules !!!


SCHIPHOL-AMS - CHICAGO-ORD - 6592km/4120mi - 16 November


KU 115 - Kuwait Airways - $300
United Limo - Bus from O'hare to Milwaukee-downtown

MILWAUKEE - 16,17,18 November
Scott & Michele
Working on my "Jetlag"

MILWAUKEE - MINOT - GARRISON - 18,19 November
AMTRAK - 20 hrs train ride - (15.55pm - +08.31am)

GARRISON - 19,20,21,22,23 November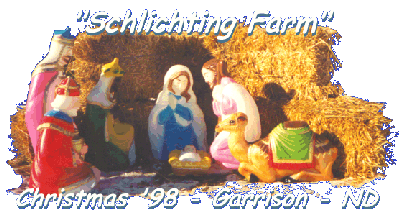 Jim picks me up in Minot.
Schlichting Farm - Jim, Ruby & Family
Have to scan some images, to complete the North-Dakota story.
Enough to pick some "goodies".
It's was my end-point of the 2nd bicycle tour in 1995.

GARRISON - ESTEVAN 23 November
Uptown Motel - also busstop of STC
Was several times here on my way North or South
It's my stop for or after the border... a cab is the only transportation
to make the connection with the Minot-Crosby ride
Stop in Noonan, order a cab and a good dinner
Takes about 30 min, so enough time to stuff my belly
It's so local, that I met mostly the same people after all those years
Yes, it's a small world in this desolate corner.

ESTEVAN - REGINA - SASKATOON - 24 November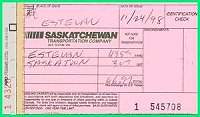 7 hours busride
Inquires: 1.800.663.7181

MARTENSVILLE - 24,25,26,27,28,29 November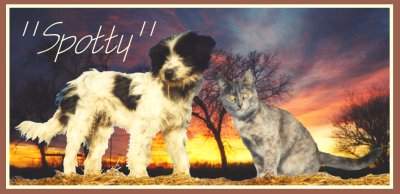 On the farm of Bas,Martha & Ellen
"Spotty" is the whole day looking for a team-mate
drops a ball in front of you and will wait.........till you kick it away.
Brings you in shape when he's around!
As a former soccer-goalkeeper I give him a good time - me too.
Did use the cat also in the "Zola Impression".

SASKATOON - CALGARY - 30 November
STC - busride - 10.30 hr

CALGARY - 1,2 December
Terry, Marg

SUNDRE - 3,4,5,6 December
Jack & Betty

SUNDRE - CAlGARY - 6 December
Terry

CALGARY-YYC - MINNEAPOLIS-MSP - 1682km/1051mi - 7 December
MINNEAPOLIS-MSP - GREEN BAY-GRB - 403km/252mi - 7 December
Today I have my FREE flights due my frequent miles/points

GREEN BAY - 7,8 December
Norb & Laura
GREEN BAY-WI - ROSCOMMON-MI - 600 km - 9 December

Rent a car for a trip to the "Schuurman Family" in Mossley - Ontario - Canada
Heading to Escanaba, St.Ignace, Mackinac Bridge further South
Enough miles in Roscommon, a Motel+Restaurant is just on the right spot

ROSCOMMON-MI - MOSSLEY-ON - 432 km - 10 December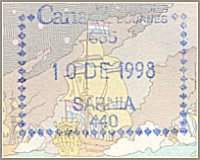 Saginaw - Mayville - Yale - Port Huron - Sarnia - London - Mossley
Back in Canada

MOSSLEY - ZOLA Farm - 11,12 December
Good time on the Farm, no regrets of this unscheduled visit
"ALL THE BEST" Ruud, Albertien, Henk, Linda, Simon & Harmen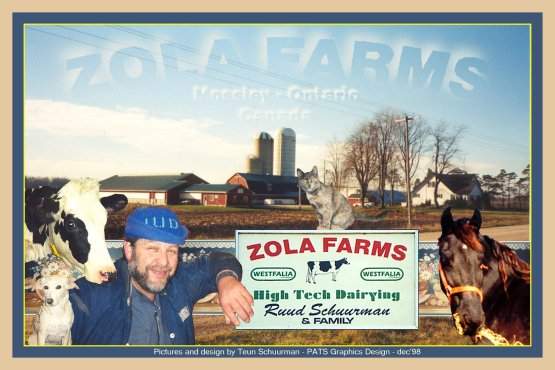 My "ZOLA-IMPRESSION" from 8 pictures




- † - IN MEMORIAM - † -

RUDOLF SCHUURMAN

Ruud - aka Rudy "de Vuist", born in Vollenhove, The Netherlands
deceased 19 Sep 2015, London, ON - Age 64 -

- PATS - 22 Sep 2015 -






MOSSLEY - ROSCOMMON - 432 km - 12 December
Back to my Motel in Roscommon
It's 12 december but the weather is like Spring. Beautiful

ROSCOMMON - AMBERG - GREEN BAY - 600 km - 13 December
Stop in Amberg, say hi to Gordy & Norma

GREEN BAY - 14,15,16,17 December
Debbie,Larry,CJ & Michael

AMBERG - 18,19,20,21 December
Gordy & Norma Szalanski - Amberg Pub
Lot of memories since 1991!
For more pictures of this area goto
Next - Winter'98.2 on bottom op page !

GREEN BAY - 22,23,24,25 December
Laura & Norb Mroczynski - celebrating Christmas as usual
Uncle Bob & Dani are not changed, always time for a joke.
On our way back to Green Bay we stopped in Seymour to say hi to his dad
Many Polish settlers did find their home in this area
Towns with names like Pulaski, Krakow & Zachow say enough

GREEN BAY - MILWAUKEE - 26 December
Greyhound - with City-bus to Scott & Michele

MILWAUKEE - 27 December
Scott & Michele, went with Scott to a good restaurant.
Memories,stories,^N and a few drinks are doing the rest.


MILWAUKEE - O'HARE - 28 December

City-busses #23 and #80 to General Mitchell International
from here with "United Limo" to O'Hare





After all those years I knew the bus/train/plane schedules
as my own pocket, even better than my friends

CHICAGO-ORD - SCHIPHOL-AMS - 6592km/4120mi - 28/29 December
ZWOLLE - VOLLENHOVE - 30 km - 29 December

Back to HOME --- HOME-with-frame --- Back - Summer'98 --- Next - Winter'98.2